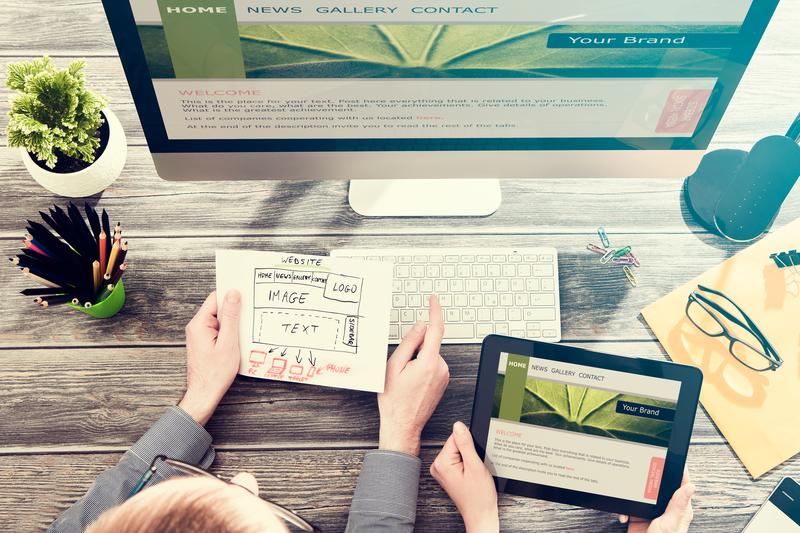 Dust the cobwebs off your business marketing plan with the advice below.
Spring cleaning is synonymous with housework and garage sales, but it's also of great value to your business. Spring is a great time to evaluate where you are, the progress you have made in your marketing and business goals, and what changes might be necessary to make. Keep reading for helpful tips on how to spring clean your marketing plan, online reputation, search engine optimization (SEO), social media, and website.
The first step of spring cleaning is to create a to-do list of the specific areas you want to spruce up. In order to tackle projects quickly and effectively, it can help to prioritize and organize this list from things you need to do immediately and what is able to wait until a later date. If you don't rank the importance of your to-do list, you'll end up doing what you find easiest while delaying the consequential stuff. Disorganization can produce stress and mistakes.
Once you have your list prioritized, don't be afraid to call on your team for help and delegate tasks. For projects you want to work on, schedule short blocks of time during your work hours to spend on them so they don't seem as overwhelming or get put on the backburner.
Spring Cleaning Your Business' Marketing Plan
Before we dive into specific strategies to freshen up this spring, it's important to take a look at the big picture and evaluate your marketing plan as a whole.
Goals: When you created your marketing strategy for this year, you should have included SMART goals. Spring serves as a good reminder to look at those goals you created. Are you on target to reach those them? Do they need a little fine-tuning? Do you have new goals to add to your current marketing strategy?
Budget: Like your goals, the budget should have also been established when you established your marketing strategy. Budget is a complex topic with many variables that need to be considered; Emily Sidley, Three Girls' Senior Director of Publicity, dives into the topic in her three-part series: Part 1, Part 2 and Part 3.
In general though, now would be a good time to see where you are on your expenditures compared to what you have set aside for the year. This will help you determine where you need to cut back or where can you spend a little more.
Target Market: This area won't change much in just a few months, but it is still a good idea to evaluate it to see if there are any new trends developing. Potential changes in your target market could signal an opportunity for your business to expand, which you'll want to keep an eye on, or an area in your marketing efforts which you need to improve in order to reach your intended market.
The following strategies all deserve their own discussion and evaluations, but it's important to remember they interlink and should reinforce your overall brand messaging.
Spring Cleaning Your Business' Online Reputation
When was the last time you checked your online reputation? Here's how to spring clean your business' image.
Spring cleaning your brand's online presence can be done in three simple steps.
Evaluate where you are online. The best place to start is to evaluate where you are with a simple Google search for your business. Check for any accounts you may have created that need to be shut down for inactivity, as well as the rest of your online profiles. This is a great opportunity, if you haven't done so in the past, to create a master spreadsheet of your online presence – include website names, login information and other notes (like if the site is active or when it was deactivated).
Think about the big picture. How do all your different sites fit into your overall brand? Does your website reflect your business accurately? How do social media profiles fit into the big picture? Are all of them being used effectively and worth your time? Because a lot of consumers judge businesses by their website and social networks, it's important your overall online presence is consistent and cohesive.
See what others are saying. Part of managing your reputation is monitoring what people are saying about your business. It takes a lot of time and patience to build a positive standing, but it only takes a few bad words to damage it. Don't wait until spring to acknowledge a negative review (that should be done immediately); instead use this time to get an overall picture of your status, making notes on the general consensus and how you can improve your brand's image.
Spring Cleaning Your Business' SEO
Google is pretty secretive about how they judge web pages and they constantly update their algorithms to make sure they are showing the most relevant results people want. For this reason, it's important you regularly evaluate and freshen up your Search Engine Optimization (SEO) strategy to make sure you're keeping with these time-tested techniques front and center.
1.Audience first, search engines second.
In case you weren't aware, Google is one smart cookie made up of thousands of intelligent search engine optimization analysts who want to get people the most educational, engaging, and unique content onto user's screens. In order to do this, you need to create content that is epic and tailored to your target audience. Creating content with important information can increase traffic to your site, build trust with your audience and attract inbound links and social shares to get your content elsewhere.
2.Keywords and placement.
Make sure you're keeping up to date on the best practices for SEO with these spring cleaning tips for your business.
Gone are the days of throwing keywords all over your content in the hopes that you'll earn some extra bonus points with Google. Instead, pick one strong keyword or key phrase to focus your content around and place it in your copy where it sounds natural to the reader. Why? This will build structure, consistency and help SEO by making it easier for Google to know what you're all about.
You want to choose a word or phrase that your audience will naturally search and associate with your business. Tools like Buzzsumo, are handy to analyze how many people are searching for particular words. You want to choose a word that users are searching for but keep it specific to your brand.
Take some clues from Carly Murphy with these five keyword placements:
URLs: Use hyphens between each word.
Page Title: Try to put the keyword in the first or last three words of the title since that is where people scan when searching results.
Page Headers: Every header should include the keyword for consistency and reinforcing the topic.
Image Alt Tags: Include the keyword in the alt tag to help tie it into the post.
Meta Description: This is the snippet of information that search engines display on the results page, using a keyword will help people and search engines understand why it's relevant to the search.
3.Create internal links
According to Murphy, internal linking is, "The act of positioning hyperlinks throughout your site that link to separate pages within the same domain." This means that if you're writing a blog post, make sure to include links to other blog posts or pages on your website. This allows users to navigate the site and also gives you some free votes in the SEO department.
Page length
The length of the pages on your website also plays a role in SEO. According to this PR Daily article recently released, every page that you publish needs to have at least 500 words. This is especially important for blog posts and pages that inform your audience about your brand – such as the homepage and about page.
Spring Cleaning Your Business' Social Media
Now is the time to take a look at your social media accounts, research trends and make changes where it is needed.
Evaluate Accounts: You remember that master spreadsheet you created? Now is when it will come in handy. Go through each of your social media accounts to evaluate how they are performing for your brand. It is better to be on one site and do well on it, than to be on every social platform and have mediocre results. Once you know which accounts you want to keep using, go through them with a fine tooth comb. Update contact information, profile images and your about section to make sure that it accurately reflects your brand.
Research Trends: Social media trends come and go pretty frequently. By now there should be a clear picture of what social media techniques are picking up speed and which ones are already dying out. In the fierce competition for consumers' attention, you need be aware of these changes to keep your edge and stay ahead of the competition. This is also a time to make sure there have not been any changes within social media platforms themselves. Recently, Facebook rolled out a new algorithm that dramatically shook up how businesses use the platform to interact with their audience. Not doing research on trends and practices could cause you to miss an important change and lead to upsetting results.
Make Changes: If you notice you have a social account that is not producing results and you have given it enough time (12-18 months), now would be a good point to deactivate it and redirect resources into the better performing platforms.
More than just deactivating accounts, now is a good time to adjust how you use the social platforms and to update your content calendar with new ideas.
Spring Cleaning Your Business' Website
Is your website viewable on all browsers and mobile devices? Here's why it's important.
Like everything else, your site may be in need of a little spruce up. If it's been a while since you last updated your website, it could be missing some key features that are fundamental in today's competitive business world. Here are some questions to ask as you freshen up your website.
What is its purpose?
It seems obvious, but knowing the true purpose of your website will determine everything that it does and how it looks. Make sure you lay out clear objectives and goals. The purpose of your site should be evident to your visitors; if it's not, now is the time to make sure it is clear through your copy and images.

What content does it need?
A personal website will usually have content that is more about personal tastes and interests. A business website will feature content about the business itself; an "About Us" page, a blog, contact information, and pages devoted to products and/or services are important parts of successful a business website. It's critical to feature content that is SEO focused, with crisp images, creative videos, and keyword-friendly copy. Make sure each page includes a call to action and links to your social media profiles are easy to find.

Who is your audience?
Every website design is a little different; you can always tell who knows their audience well and who doesn't. Website designers who understand their audience use appropriate colors, targeted SEO (as mentioned in the previous step) and a clear layout. Make sure it's immediately clear who you're trying to reach when your website pops up.

Is it viewable in all browsers and mobile devices?
Your website should retain its structure and design no matter what browser someone is using. Test your website on Google Chrome, Mozilla Firefox, Safari and Internet Explorer. It's also a good idea to test your website on mobile devices. According to Impact, "57 percent of users say they won't recommend a business with a poorly designed mobile site." You don't want your company to fall into this category.
Ultimately, spring cleaning your brand's marketing efforts will take time, but you'll be rewarded in the end with a more targeted approach that will help you reach your business goals.

This article was written by Danielle Winski from Business2Community and was legally licensed through the NewsCred publisher network. Please direct all licensing questions to [email protected].

|||

------------------------------------

By: Danielle Winski from Business2Community
Title: Spring Cleaning For Your Business: What You Need to Know
Sourced From: weebly.ghost.io/business-spring-cleaning/
Published Date: Fri, 01 Feb 2019 21:23:47 GMT


Read More
Did you miss our previous article...
https://coachingbusinessowners.com/essentials/exploring-a-few-essential-features-before-buying-a-used-car