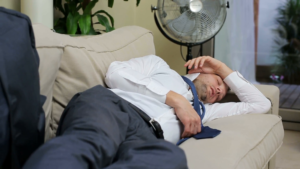 Running a business is more than a full-time job it is an all-consuming passion that takes a lot of time and energy. Ask any business owner and they will tell you that their workday doesn't end when they leave the office. There are countless tasks that need to be taken care of to keep the business running smoothly, many of which are dealt with outside of normal business hours.
Because business owners have so much to do, they often neglect their sleeping habits. Unfortunately, failing to get enough sleep can have a major impact on everything from their health to their productivity. That's why it's recommended to get a good mattress to snooze on. See sleeponlatexcoupon.org – discount website for the latest deals.
If you own a business and aren't getting at least seven hours of sleep a night, it is important to reevaluate your habits. Getting more sleep could dramatically improve your ability to get things done while at the same time protecting your health. Below are some of the most important reasons why business owners should get more sleep:
1. Your brain functions better when you are well rested.
Time and time again, studies have shown that getting enough sleep results in better cognitive abilities and improve brain function. When you are exhausted, it is much harder to stay focused. You may find your mind wandering during the day rather than staying focused on the task at hand. Decision-making becomes practically impossible and your problem-solving skills suffer.
The easiest way to correct all of these problems is by making sure that you get enough sleep. Being well-rested not only makes it easier to stay focused but also helps you make smarter decisions. As a bonus, it is also easier to solve problems or to learn new things when you get enough sleep.
2. Getting enough sleep promotes better health.
Your body uses the time when you are sleeping to repair itself, healing damaged tissue, rebalancing hormone levels, and generating white blood cells to combat viruses and bacteria. If you don't get enough sleep, healing takes a lot longer. It also makes you more susceptible to colds or illnesses. Even though it may seem like staying up late to finish a project is a good idea, it could actually wind up costing you time by making you sick.
3. Sleep is good for your mental health and well-being.
If you deprive yourself of sleep, it can lead to increased levels of anxiety and depression. Running a business is extremely stressful and can take a toll on your mental health. Regarding supporting your mood, getting enough sleep is essential. Aim for anywhere from about 7 to 8 hours each night to get the best results.
There are a lot of important reasons why business owners should get more sleep. Being well rested makes it much easier to stay focused. It also improves cognitive function and reduces the chances of developing conditions like depression and anxiety. Perhaps most importantly, sleeping also gives your body a chance to heal, helping to ensure that you stay healthy and active.
-------------------------------------

By: Paulo
Title: Important Reasons Why Business Owners Should Get More Sleep
Sourced From: feedproxy.google.com/~r/BeyondThePedway/~3/Kb0kR4Q1Hk4/
Published Date: Thu, 01 Nov 2018 23:16:23 +0000


Read More
Did you miss our previous article...
https://coachingbusinessowners.com/startup/best-apps-for-office