||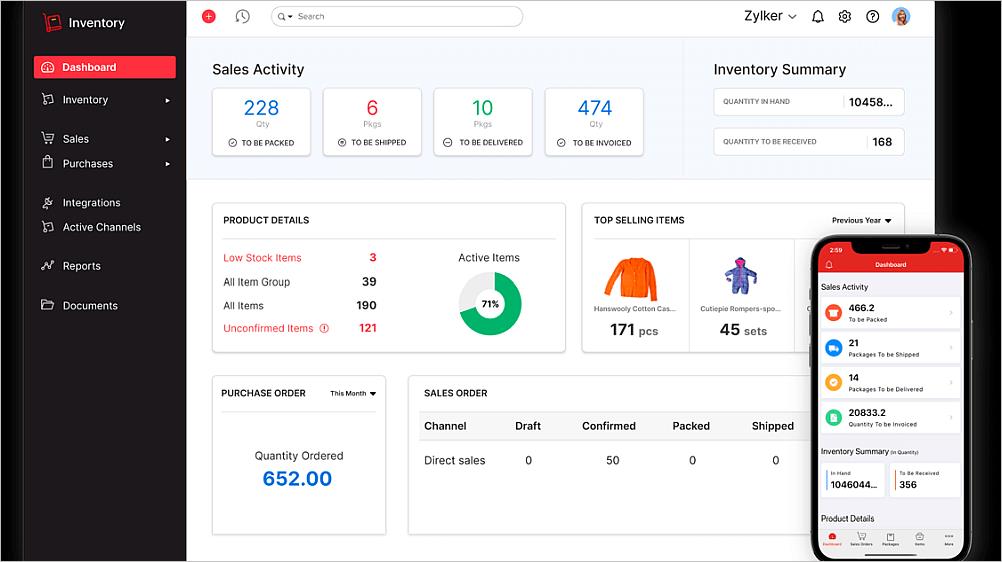 Inventory management serves as the backbone of any successful business. A staggering 25% of business costs are tied to inventory, making it the fourth biggest killer of small businesses.
Surprisingly, only 54% of small businesses track their inventory efficiently, and just two-thirds manage to ship packages on time without overselling.
These statistics underscore the critical role that inventory management plays in the success or failure of a business.
Effective inventory management can mean the difference between thriving in a competitive market and becoming another statistic in the high failure rate of small businesses.
Why Is Inventory Management Important?
Inventory management is crucial for both the financial health and operational efficiency of a business for a variety of reasons, including:
Financial Implications

: Poorly managed inventory can lead to significant financial losses. Holding too much or too little stock affects storage costs, spoilage, and brand reputation.

Efficiency and Customer Satisfaction:

Proper inventory management ensures timely shipping of the right products, leading to higher customer satisfaction and repeat business.

Business Longevity:

Efficient inventory management can give small businesses a competitive edge, since inventory mismanagement is a leading cause of small business failure. Investing in robust inventory management systems can contribute to long-term success.

What is Zoho Inventory?
Zoho Inventory is a cloud-based platform that serves as a comprehensive solution for inventory management, meeting all the above requirements and more. It not only integrates with popular e-commerce platforms but also offers a unified system that streamlines various inventory-related tasks.
From tracking stock levels to processing orders, Zoho Inventory provides businesses with the tools they need to manage their inventory efficiently.
"Any business that has stock coming in or stock going out needs to keep track of how much stock they have on hand," explains Raghul M., Lead Partner Solutions Engineer for Zoho Inventory. "They can use Zoho Inventory to manage their inventory, whether in retail, marketing, textiles, interior designer, or any sort of industry. As long as they have products and stock to count, they can use Zoho Inventory."
The platform is engineered for growth, offering features like multi-warehouse management, barcode and RFID system for accurate stock tracking, and personalized workflows to automate business processes.
It also allows for multi-currency transactions and offers a range of integrations with other Zoho apps, making it a versatile choice for businesses of all sizes.
"Zoho Inventory has been a great addition to managing our small business across North America," says Patrick Fletch, director of business development, Alloygator Limited, USA and Canada.
"Managing stock and returns across the multiple warehouses has been easier than expected," Fletch adds. "What stands out for us the most is when there is an issue or an area that needs to be addressed. The support team is extremely responsive, and being a business owner, this sort of communication is important."
Does Your Business Need Zoho Inventory?
In an era where consumer behavior is rapidly changing, businesses must adapt to stay competitive. The following key trends and challenges make Zoho Inventory an indispensable tool:
Shifting Consumer Shopping Patterns

: The rise of "showrooming" and "webrooming" has blurred the lines between online and offline shopping. Businesses need to adapt to these hybrid models to meet customer expectations and manage inventory efficiently.

Hybrid Commerce

: The blend of online and offline shopping experiences requires a more complex inventory management system. Businesses must track products across multiple platforms and locations to ensure availability and timely delivery.

Selling on Multiple Channels

: Businesses today operate in various sales channels, from physical stores to online marketplaces. Zoho Inventory can integrate seamlessly with platforms like Amazon and eBay, allowing for efficient management of multiple SKUs and sales tracking.

Advanced Tracking and Barcoding

: For businesses that require detailed tracking—like those needing to monitor expiration dates—Zoho Inventory offers batch and serial number tracking.

Multi-Warehouse Management

: Zoho Inventory supports multi-warehouse management, enabling businesses to manage stock across different locations. This is crucial for larger operations or those looking to scale, as it offers a centralized system for inventory control.
How Can Small Businesses Use Zoho Inventory?
Understanding the practical applications of Zoho Inventory can provide valuable insights into its capabilities.
To illustrate how Zoho Inventory can solve real-world challenges, let's explore three business case stories.
Each story highlights unique issues faced by different types of businesses and how Zoho Inventory offers tailored solutions.
Alan's Food Mart
Alan's Food Mart is a multi-location grocery store that offers a wide range of products. The business grapples with challenges in counter sales and the complexity of managing multiple units of measure.
Zoho Inventory comes to the rescue with its robust features. It allows Alan's Food Mart to manage stock across various locations efficiently.
The platform also offers the ability to group items and sell them as bundles, which is particularly useful for promotional offers.
One of the standout features is Zoho Inventory's capability to track item expiration dates, a critical requirement for any food business.
Joe's Fashion
Joe's Fashion is a versatile retailer that sells its products through multiple channels, including brick-and-mortar stores, Amazon, and its own website.
The challenge lies in maintaining consistent stock levels and order updates across these diverse platforms.
Zoho Inventory addresses this by offering seamless integration with various e-commerce platforms like Amazon, eBay, Etsy, and Shopify. This allows Joe's Fashion to manage and fulfill orders directly from Zoho Inventory, eliminating the need for multiple systems.
The software also provides real-time tracking for shipments through major carriers like UPS and FedEx.
Sandy's Electronics
Sandy's Electronics is a business that operates multiple warehouses and sources its products from various vendors.
The company also employs seasonal pricing strategies and offers dropshipping options.
Zoho Inventory assists by allowing the business to add and configure multiple warehouses easily. It also supports the transfer of stock between these locations.
On the purchasing side, the software enables the creation of purchase orders, receipt of packages, conversion to bills, and recording payments to vendors.
One unique feature is "Package Geometry," an AI-powered tool that helps optimize the orientation of products in a shipping box, thereby reducing shipping costs.
Further, Zoho Inventory integrates seamlessly with accounting systems like Zoho Books and QuickBooks Online, providing real-time updates on sales and purchases.
Other Zoho Inventory Features
Beyond its core functionalities, Zoho Inventory offers a suite of additional features that cater to the diverse needs of businesses.
These features not only enhance operational efficiency but also provide flexibility and seamless integration with other tools.
Mobile App for Android and iOS
Zoho Inventory extends its functionality to mobile platforms. The mobile application is available for both Android and iOS, allowing business owners to manage operations on the go.
"Zoho Inventory is available as both an Android and an iOS application," says Raghul M. "It allows you to have the advantage of mobility, meaning you can carry your business wherever you go."
Personalization and Automation
Zoho Inventory allows businesses to personalize their experiences. Users can customize message alerts and transaction templates, adding a personal touch to their operations. Automation workflows can also be set up for tasks like sending email alerts or app notifications, streamlining the business process.
"Zoho Inventory's automation capabilities saved us a ton of time in the order management process. It probably saved us 10 hours a week," says Dylan Cooke, director of Lumber Jack Distribution Canada, Inc. "When we deal with other business associates, they ask what we use for inventory tracking, we are always keen to talk about Zoho. We feel we have made the right decision."
Collaboration with Zoho Ecosystem
By integrating with the larger Zoho ecosystem,, Zoho Inventory goes beyond basic inventory management, providing businesses with an inclusive yet flexible solution for their operational needs.
"Any data that you record within one of the applications will be available in the other platform the next second," says Raghul M. "That is a huge advantage of Zoho Inventory's integration with other accounting systems."
Some of the key integrations include:
Integration with Zoho Sign

: Digital signatures are becoming increasingly important in today's business world. Zoho Inventory integrates with Zoho Sign, allowing for quick and secure digital signatures on important documents.

Zoho Analytics for Customized Dashboards

: For businesses that require more detailed reporting and analytics, Zoho Inventory integrates with Zoho Analytics. This allows for the creation of customized dashboards that can provide deeper insights into business operations.

Customer Service with Zoho Desk

: Customer service is a critical aspect of any business. Zoho Inventory integrates with Zoho Desk, providing a unified platform for customer service. This ensures that all customer-related information is readily available, making the customer service process more efficient.

Seamless Integration with Other Zoho Apps

: Being part of the larger Zoho ecosystem has its advantages. Zoho Inventory can easily integrate with other Zoho applications, offering businesses a unified platform for various operational needs. This seamless integration enhances operational efficiency and simplifies tasks.
Zoho Inventory offers a comprehensive solution for businesses to manage their inventory efficiently.

From advanced tracking features to seamless integrations with multiple sales channels and other Zoho apps, it covers all bases.

"Since Zoho Inventory has the ability to integrate with Amazon and a lot of other sales channels, it allows small businesses to scale their businesses from an e-commerce angle and take their products to multiple channels," explains Raghul M. "Once they have success with a few products they can replicate the same journey to other products, as well, and Zoho inventory allows you to have multiple SKU's and multiple locations.

As businesses evolve, Zoho Inventory scales alongside them, making it a reliable choice for both small businesses and larger enterprises.

Image: Zoho

This article, "Streamline Business Operations and Retain Customers with Zoho Inventory" was first published on Small Business Trends

||

----------------------------------------------------------------

By: Samantha Lile
Title: Streamline Business Operations and Retain Customers with Zoho Inventory
Sourced From: smallbiztrends.com/2023/10/zoho-inventory.html
Published Date: Tue, 24 Oct 2023 16:00:38 +0000