||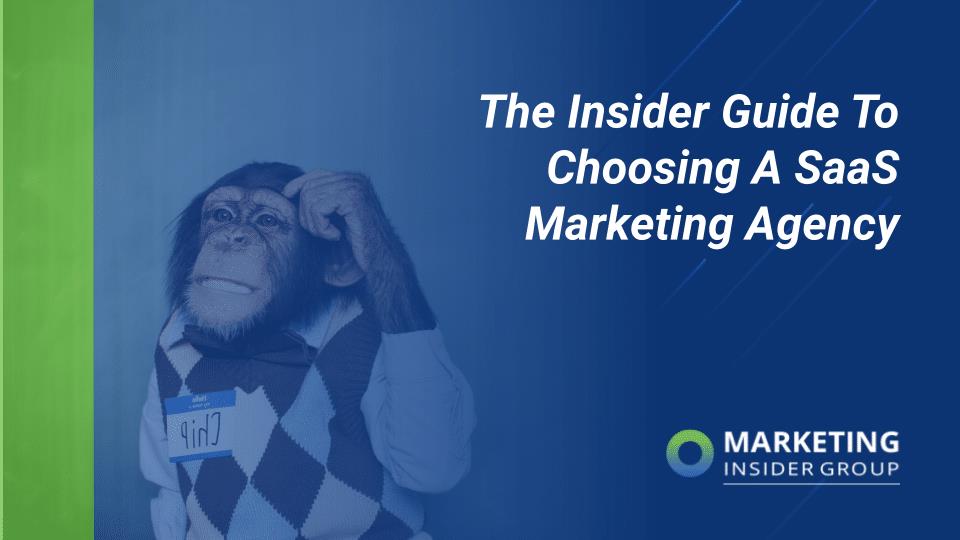 If you're running a growing SaaS company, you've probably found yourself wondering, "Do I really need a SaaS marketing agency? You've already gotten so far without outsourcing an expert, and keeping your marketing efforts in-house has to be more effective and less expensive – right?
Not necessarily. Even if your business is already successful, a marketing specialist can take your company's ROI to the next level. If you're busy growing a startup or juggling a high-volume client load, you probably don't have the time to master the science of digital marketing, too.
Not to mention, it's likely that your competitors already have a marketing and lead generation strategy in place. The last thing you want to do is sacrifice an opportunity to stomp out the competition after all of your hard work.
Working with a SaaS marketing agency provides the flexibility you need to grow your business while still focusing on core business initiatives. And, the icing on the cake: at the end of the day, hiring a SaaS marketing agency is typically cheaper than in-house marketing. It's not going to eat up your entire marketing budget.
Ready to ramp up your marketing strategy? Here's everything you need to know about choosing a SaaS marketing agency based on your company's specific needs.
Quick Takeaways
Feeling overwhelmed by marketing tasks, uncertainty about your marketing ROI, and declining traffic and leads are all sure signs you should consider a SaaS marketing agency
Services commonly provided by a SaaS marketing agency include content marketing, SEO, PPC, inbound marketing, and branding
Defining your company's needs and asking for referrals are helpful first steps in beginning your agency search
Make sure your SaaS marketing agency is compatible with your company from a cultural and process perspective
Great agency services cost money, and an agency that seems like a bargain is probably a red flag
Hiring a SaaS marketing agency can help maximize your business's performance with increased brand awareness, visibility, and organic traffic.
Should I Hire A SaaS Marketing Agency?
First, take a moment and ask yourself if you want to maximize the following:
Brand awareness
Audience education
Trust & credibility
Customer loyalty
Sales
Email lists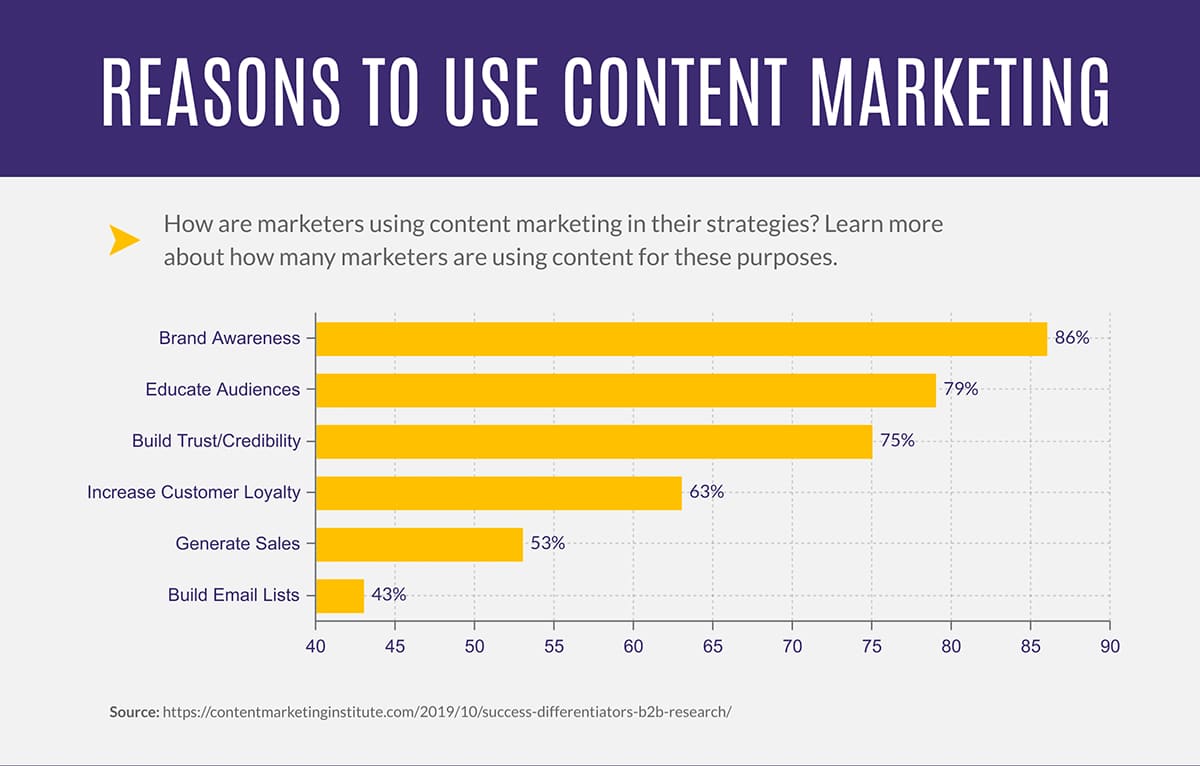 Image Source: Visme
Of course you do! Working with a SaaS marketing agency means implementing a strategy specifically designed to achieve each quality above.
Now, how do you actually know if you really need to hire an agency? Fortunately, there are a few surefire signs that tell you it's probably time.
1. You Feel Overwhelmed
Feeling like you're in over your head is the surest sign it's time to think about outsourcing. If marketing isn't your area of expertise, you've already got too much on your plate, or your company is scaling faster than you can keep up with, you probably need agency support.
A SaaS marketing agency has the knowledge and resources to jump in quickly, get you on track, and scale up or down as needed.
2. You Don't Have A Plan
Is your marketing strategy flying by the seat of its pants? If so, you're probably missing out on big potential for growth. The hallmark of a great digital marketing strategy is consistency. If you don't have the bandwidth to make a plan and stick to it, you should find an agency that can help you do it.
3. Your Current Strategy Isn't Working
If you do have a plan but you're not seeing results, it's another sign that outsourcing is probably the right choice for you. A SaaS marketing agency can help you conduct an audit to uncover exactly where your strategy needs adjusting and implement new tactics that will improve its performance.
4. You Aren't Sure If Your Strategy Is Working
Just as detrimental as poor results are no results — AKA you have no idea if your strategy's working. Don't just throw spaghetti at the wall and hope it sticks. If you're working hard but feel in the dark about how your efforts are paying off, an agency could be the answer.
Reporting results is the primary way marketing agencies demonstrate their effectiveness, so you can be sure any SaaS marketing agency you hire will regularly report on performance.
5. Your Metrics Are Declining
SOS! It's definitely time to think about hiring a SaaS marketing agency if you're losing:
Traffic
Keyword rankings
Leads
Conversions
In this case, there is no time to lose. A quality agency will quickly help you assess the situation and stop the bleeding, then build a strategy to address your challenges and turn things around.
What Services Do SaaS Marketing Agencies Offer?
To understand why hiring a SaaS marketing agency can be so valuable and to eventually choose the right one for your company, it's important to know the types of services they commonly provide. Let's go through them one by one.
Content Marketing
Content marketing is unquestionably the most critical and most effective component of any digital marketing strategy. Research has found that content marketing earns 3x as many leads and costs 62% less than any other marketing method.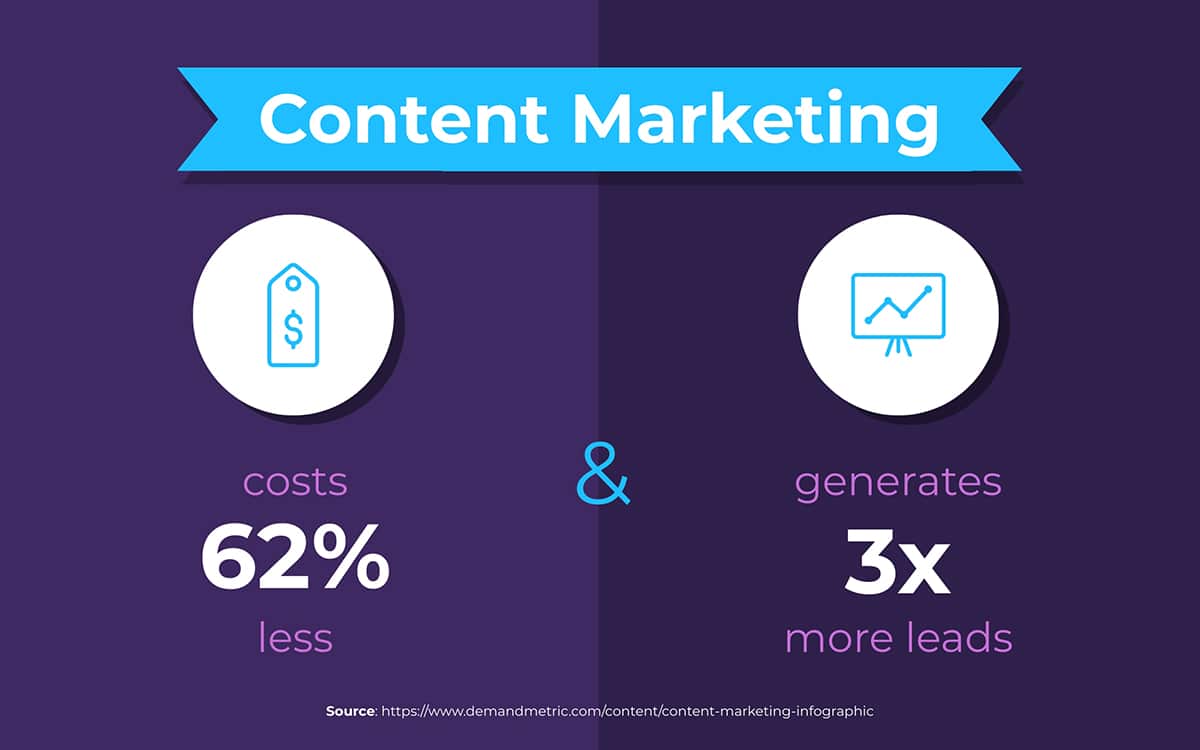 Image Source: Visme
For SaaS companies who operate almost exclusively online, content marketing is also the primary way they connect with customers. At the core of great content marketing is a blog with regularly published posts. So how often should you blog? Ideally, 11-16 times per month. Companies that publish at this rate earn about 3x the amount of traffic as those that don't.
Marketing agencies that offer SaaS content marketing services can write, design, deliver, and even publish this content for you. They can also create other types of content such as:
Videos
Ebooks
Infographics
Whitepapers,
Case studies
Reports
Newsletters
Obviously, creating content is time consuming work, and handing off content alone to an agency can free up a great deal of your time to refocus on strategic business priorities.
SEO
In order for your content to have an impact, it needs to be optimized for search engines. Today, a whopping 93% of all online experiences are beginning with search. If your brand isn't appearing on search engine results pages, you risk being essentially invisible to your potential customers.
SEO expertise is one of the most common and valuable services that a SaaS marketing agency can deliver for you. Not only can you be sure the content you publish will be optimized, but an agency will help you build an optimized website and build important SEO steps (like keyword research) into your overall strategy.
PPC
Organic traffic is ideal, and today we hear a lot about why brands should focus primarily on organic. But sometimes your brand needs a boost, and pay-per-click (PPC) advertising can be a quick and effective way to earn it. Pay-per-click advertising, in short, is running ads across various platforms that you only pay for when a user clicks.
People generally think of Google when they think of PPC, but you can also run paid ads on social platforms, which can also fall under the PPC umbrella. PPC ads can be especially effective at a few things, like remarketing to users who have already visited your website, expanding into new markets, or testing out different types of messaging. For startup SaaS companies, it can also be a way to support your content marketing efforts in gaining brand visibility and awareness.
There's a lot that goes into running PPC campaigns, like:
Ad design
Copy
Keywords
Targeting
UX optimization
Reporting metrics
A SaaS marketing agency can handle this process for you from start to finish.
Inbound Marketing
While all of the above tactics are components of inbound marketing, you can count on SaaS marketing agencies to help you with your holistic approach to gaining inbound traffic.
How are all of your tactics working together to drive engagement? What other specific lead generation tactics can you implement? How are your efforts targeted and aligned with your buyer journey? These kinds of questions are critical for high-performing B2B marketing strategies, and an agency can clearly answer for you with demonstrated reporting and results.
Branding
Many SaaS companies never actually perform thorough brand development. The assumption is that a great product or service will sell itself. That may be true to an extent, but you won't be the only SaaS company selling those products and services. Your brand is the image you project to your audience — it's the image that differentiates you from your competitors and makes you unique in the eyes of potential customers.
Your brand is also threaded throughout all of your marketing channels: your website, content, social media, emails — it should all have a consistent brand that authentically represents who you are. Brand storytelling through these channels is one of the best ways to connect with your audience and stand out in a crowded market.
Brand development is hard work, and it takes a special kind of creative talent and expertise. A SaaS marketing agency can work with you to get to know your company and build a brand that makes it shine. Learn more about the importance of great branding by watching the video below.
Video Source: Big Think
How To Choose The Right SaaS Marketing Agency
Choosing an SaaS marketing agency that can meet the needs of your company is the key to success. Here's what you need to consider while weighing your options.
1. Know Your Own Needs
To choose the right agency, you first have to know your own pain points. Not all needs are created equally — you might need comprehensive services from a SaaS marketing agency, but know which are most pressing for you. For example, maybe you have a brand developed, but you need help getting content created and published consistently. Conversely, maybe you have the bandwidth to create content but you're missing a brand personality to put behind it.
Second, set goals. You'll likely do this with your agency once you choose one, but before you even start looking, you should already know what you want to accomplish. I always recommend using the SMART goal framework to set goals that are well-defined and hold you accountable.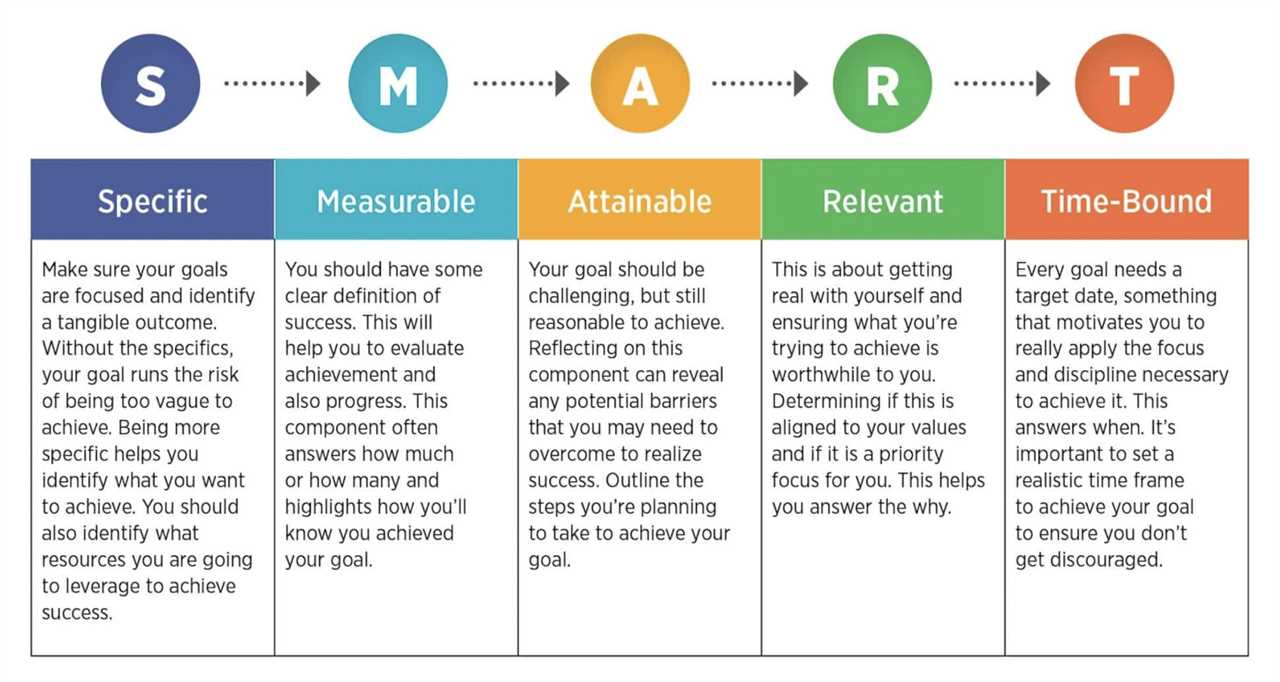 Image Source: CMC
Once you have your needs and goals outlined, you'll be better positioned to choose an agency that specializes in the services you need most.
2. Know Your Budget
There's no getting around it — hiring a SaaS marketing agency is going to cost money. Keep in mind that it is money well spent to get the ROI you're looking for on your marketing efforts.
And before you run away from the spend, keep in mind that outsourcing really is often cheaper than hiring full-time staff, which requires paying for:
Salaries
Benefits
office space
Management
Not to mention, you'll have less flexibility to ramp up and down as needed. The key here is to do your research about potential costs. Know what you're able to spend, then decide what you're willing to spend so you don't waste your own time or a potential agency's.
3. Ask For Referrals
There's a reason why 84% of B2B buyers look for referrals when they're seeking new solutions. It's because referrals work! Your peers know you, so they know the types of agencies that would be a good fit for your company. Referrals can also increase your confidence in the quality and follow through of the agency you choose. After all, no one would recommend a company who provided them with a bad experience.
Image Source: Nutshell
Rather than starting from scratch, begin your search by asking for recommendations. When you don't have anyone to ask directly, you can turn to online referral networks such as LinkedIn groups or industry discussion boards for help. Be wary of "Top 10" or "Best X Agency" type of lists found on Google. These often have underlying motivations (like agencies who pay to be included).
4. Assess Your Compatibility
Once you start talking with potential SaaS marketing agencies, be sure you assess your compatibility. You should do this from several perspectives. First, is there a cultural fit? Do their core values and goals align with yours? Second, will your processes work well together? Do the programs they use easily integrate with yours? What about their communication channels, reporting methods, and overall operating procedures for the services they'll deliver?
Compatibility is key to good working relationships, so it's important to assess it before you formalize a relationship with a new agency.
5. Check Their Track Record
A quality SaaS marketing agency will have no problem demonstrating their past results. They'll be happy to provide client references, share case studies, and show reporting metrics that support their promises about what they can deliver. Don't shy away from asking for these types of resources, and you can always do your own research on company websites (most will have case studies and testimonials shared on their site).
6. Ask How They Report Results
Data-driven marketing drives higher accountability and better overall marketing ROI. And like we already covered, regular reporting is just as beneficial for your agency as it is for you as their client. It's the primary way they demonstrate their effectiveness. But not every agency reports on the same metrics or does it in the same way. The frequency, mode, and metrics your agency reports on should align with your goals and preferences.
7. Don't Go For A Bargain
I'll keep this short and simple —if an agency is promising you the world for way less money than everyone else, run. It's a red flag. High quality content and strategy requires an experienced team and a lot of time. Both of those things cost money. When you're hiring a SaaS marketing agency, you'll get what you pay for.
8. Go With Your Gut
Once you've done your research and thoroughly vetted your options, it's time to go with your gut. At the end of the day, even great agencies are not the best choice for every single client (and vice versa). Once you have a few options that you know can all deliver, choose the one that feels like it will be the best fit for you, your team, and your company.
Benefits of Working With A SaaS Marketing Agency
Working with a SaaS marketing agency will increase brand awareness, drive more revenue, and provide added value to your customers – but those aren't the only benefits.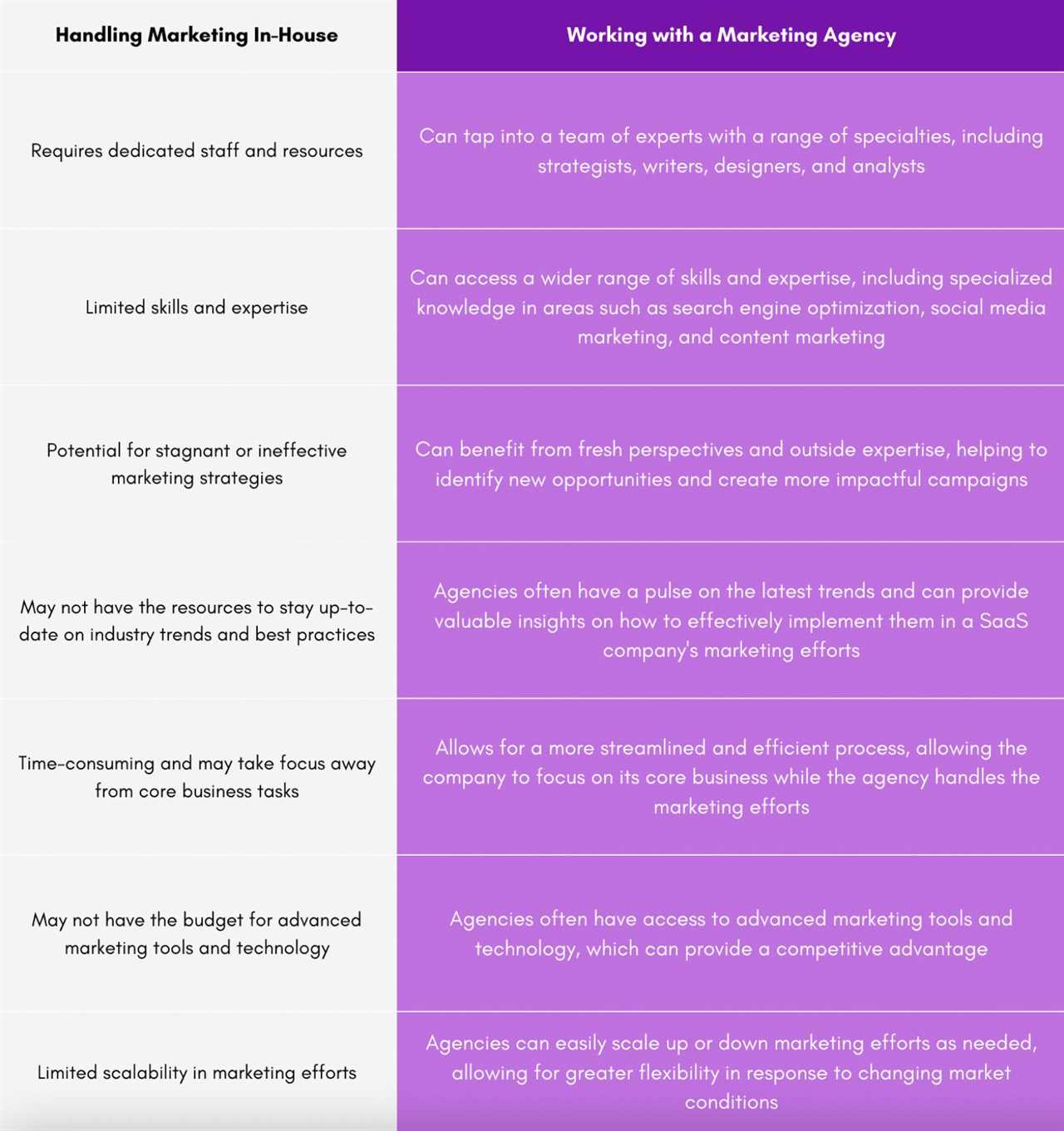 Image Source: DataDab
Access to a Team of Experts
Since SaaS marketing agencies are experts in their industry, they have the tools and expertise you need to effectively promote and sell your company's products and services. Marketing agency teams consist of experts in several areas, like:
SEO
Social media
Content Marketing
PPC
When you partner with a SaaS marketing agency, you gain access to not only their resources, but also their expert-level knowledge.
Ability to Leverage Specialized Knowledge
For startup SaaS companies or SaaS businesses interested in expansion, working with a SaaS marketing agency could be the missing piece to the puzzle. Agencies have a deep understanding of SaaS strategies and tactics that can add SaaS-specific value to your business's marketing efforts.
Opportunities to Focus on Core Business
When you hire a SaaS marketing agency, you can focus on growing your business instead of promoting your products and services. Building an effective marketing strategy is time consuming, especially if you're doing it all by yourself.
When you outsource SaaS marketing, you also free up time to work on other tasks, like customer services or product development. Earning your time back is especially beneficial for small businesses with limited in-house resources.
Quick Scaling of Your Marketing Team
Not only will an agency partnership save time on building your marketing strategy, but also on the hiring process. Finding the right in-house help is a big decision and can eat a huge chunk of your valuable time.
When you hire a marketing agency, the process usually consists of one or two calls to make sure they're a good fit. Then, they immediately start supporting you and your business as you grow.
Not to mention, in the event that things don't work out as you'd hoped, cutting ties with an agency is much easier than taking in-house help off of the payroll. Long story short, working with a SaaS marketing agency is usually a smaller, less-binding commitment.
Start Growing Your Business Today
A SaaS marketing agency could be the key to your business's continued growth. High quality content is key to navigating today's digital marketing landscape, and helps to increase brand awareness, visibility, and organic traffic.

Are you ready to jumpstart your content marketing strategy? Our team of writers and SEO experts can help you publish optimized content every week. Get started today by checking out our weekly blog content service, or schedule a free consultation now to learn more!

The post The Insider Guide to Choosing a SaaS Marketing Agency appeared first on Marketing Insider Group.

||

----------------------------------------------------------------

By: Michael Brenner
Title: The Insider Guide to Choosing a SaaS Marketing Agency
Sourced From: marketinginsidergroup.com/content-marketing/saas-marketing-agency/
Published Date: Tue, 28 Mar 2023 14:00:47 +0000